April 5, 2007 - DOB

Look what the Easter Bunny brought EARLY to my house!!!!!   12 little bouncing baby Ridgebacks!!!   Shiney as a new penny, soft as silk, smooth as satin!!!    The parents are KKR Flamenco Rhythm, formerly known as "Mink" but for THIS litter she wants to be called "Flamenco", and KKR Wolfgang Waltz with Jakona, formerly known as "Walley" but for THIS litter he wants to be called "Wolfgang" !!!     As usual, Flamenco outdid herself and had 10 males and 2 females with no trouble whatsoever.   All have ridges, no dermoids, no cleft palates, no kink tails.  One of the little boys has 4 crowns in his ridge!  One little girl has two front feet that might be a little too much, and one little boy has a right front foot with a little too much white too.      Other than those distinctive features, they are all dark, dark red, all with black masks, and all have white on their chests – some more than others.    All are fat and sassy already – Flamenco is a REALLY good momma!!!

We will be "Putting on the Ritz" for this very special litter !   This is Flamenco's last litter and Wolfgang's first!!  The end of one era and the beginning of another!!
Puttin' on the Ritz
Have you seen the well-to-do
Up and down park avenue
On that famous thoroughfare
With their noses in the air
High hats and narrow collars
White spats and lots of dollars
Spending every dime
For a wonderful time
Now, if you're blue
And you don"t know where to go to
Why don"t you go where fashion sits
Puttin on the ritz
Different types who wear a daycoat
Pants with stripes and cutaway coat
Perfect fits
Puttin on the ritz
Dressed up like a million dollar trooper
Trying hard to look like Gary Cooper
Super-duper
Come, lets mix where Rockefellers
Walk with sticks or umberellas
In their mitts
Puttin on the ritz
Tips his hat just like an English chappie
To a lady with a wealthy pappy
Very snappy
April 12, 2007 - 1 Week
Well our ten little Chaps and two little Lady's have REALLY grown this first week!   They are at least twice as big as they were on their Birth Day.  They have eating and sleeping down pat!!!  The last couple of days they have been attempting to get their 'sea legs' and therefore do a LOT of rocking back and forth and then body surfing in on the last big wave!!!   Not really any eyes opened yet - just cracks, not much noise except for tiny little whines and whimpers followed by enthusiastic sucking!!   Poor Mink, she is such a trooper!!!   Dewclaw removal went very well and as always Mink appreciates the clipping of all the little daggers on the rest of their toes!!!
The young Lady's are obviously very easy to pick out!  Besides being in the obvious minority, watch for all that "Bling Bling" on the front feet of little Miss Crystal.    Her dark red sister is Cashmere.
The rowdy young Chaps are much more difficult to tell apart right now.   I think the one with the white foot and lots of white on his chest will be Tuxedo – he's already wearing one glove or perhaps that is one of his Spatz!!??  Careful you will be letting on your age, if you actually KNOW what Spatz are or even more telling – you've worn them!!!!     The little 4 crown ridge boy is the lightest red with the least amount of black mask – you can pick him out snuggled in the center of the pictures.  I think he might be 'Derby"!!    I'm waiting for the rest of the boys to come forward and tell me who wants to be Caviar, Sushi, Champagne, Truffle, Chinchilla, Sable, Limousine and Yacht.   
All is well!
April 26, 2007 - 3 Weeks
First hint of spring, and wouldn't you know the Ritz kids are 'hitting the GREENS"!!  Chillin' on the back nine!!!    They didn't quite know what to think of the "Greens" their first time on it !!  Sort of felt funny on the tummy when poking them!!!
The Ritz kids are growing fast – they are getting better and better at walking, jumping, hopping and wrestling around with each other!  MUCH better at the growling and barking, but they still seem to think it is some sort of spontaneous reaction that comes from someone else!!!  
Another toenail trim and first worming was this week's events.   The wormer apparently tastes good to them cause they don't mind the banana -ish flavor.   Don't ask me HOW I know it tastes like bananas!!!!    Let's just say I probably don't have worms!!     For that matter I probably will never get Rabies or Distemper either!!!  Stuff occurs!!!  
Mink is getting a little bit sick of them now and has a tendency to lie outside the whelping box more and more.   She is starting to have trouble keeping up on the milk demands so I will probably start supplementing them next week.  
ALL is well!
May 4
, 2007 - 5 Weeks
The Ritz Kids turned into PUPPIES this week!!!   They are soooo much fun at this age!!!!   They can run pretty well now and like to follow me around the yard.   Jumping and hopping occur frequently as they pounce on each other!!   All are just little sweeties who like to crawl into any available lap for belly rubs.  They got lots of them while my kids were all home!!!  
On nice days they get to play in the small puppy playpen where they can soak up the sun and all the noises of the outside.    They obviously hear VERY well as they perk right up when they hear a door slam, or someone's voice, and REALLY perked up when they heard the lawn mower start for the first time!!!
I started them on milk replacer this week to help Mink with their food requirements.  She just couldn't keep up anymore!!!    I also started feeding them puppy mush too so that will fill them up a little better too.   They are voracious!!!  Teeth are coming and then I think Mink will say ENOUGH for sure!!  This week they were introduced to the litter box and are starting to get the hang of it pretty well.   I use the lid of an under the bed storage unit filled with the pressed saw dust pellets you can buy for your wood burning stoves.   Not dusty, absorbs VERY well, biodegradable!!   It REALLY helps keep their whelping box and play area much cleaner and teaches them that they need to go potty in the same place all the time.  I'm doing everything I can to help you with that housebreaking project coming up!!!
I gotta tell ya, it is TUFF to tell these little men apart!!!  I'm still working on it!!  The obvious males are the four crown pup, Derby, the three crown pup, Limo, the off- crown pup, Yacht, and the one white foot pup, Tuxedo.   The other six males, Mahi Mahi, Calamari, Caviar, Ermine, Sable and Chinchilla are faultless at this time and telling them apart takes knowing them VERY well.  Crystal and Cashmere are EASY to pick out of the pack of course!!!   I'm learning to tell them apart by how much black mask, shape of the spot on the chests, white toes, even very subtle differences in the shade of red their body coat is!!!
Still no dermoids showing up, no kink tails, belly buttons look good, no hernias, teeth are looking good so far!!
The Ritz kids had to get in some R & R after all that extra play time with my human kids.  This week they showed us how to vacation in STYLE!!!
The Ritz kids turned 8 weeks old TODAY!!!   They are full blown puppies in every way and oh so much fun and oh so ACTIVE!!!!
They had a huge week.   On Monday, they had their final family foto's taken - all day process - thank you to my mom and sister who always gamely help me.    On Tuesday, they had their final check up with the veterinarian.  I have a whole page of things we look at and make notes about which you will get a copy of.   I'm always the most worried that they all have good hearts and lungs, but everyone passed that with flying colors.    On Wednesday, my friend Sarah who is working on getting her dog judging certificate, and her dad, Bill, who IS an AKC judge came over to help me 'assess' the litter.   WOW, was that fun!!!!   We stacked them all up, went over each little body part, then took them outside in the big play yard so they could run and jump and show off for the judges, all just so the judges could tell me which of them should be a 'SHOW DOG"!!!     The best part is that they said things like, "WOW, this is such a deep litter- so MANY could be show pups",  and 'are yours always this correct?' and "the ones that have cosmetic flaws could be show dogs too if you weren't sooo pickey"!!!       YEAH!!!!!!   I think the gist of it is that Flamenco and Wolfgang done good!!!!
Next week they can start coming home.   Be sure to let me know if one of these little guys should have YOUR name on it!!!!
Missed a progress report?  That's okay, you can read all about our little luxuries
here
.
8 Weeks - Perfect Males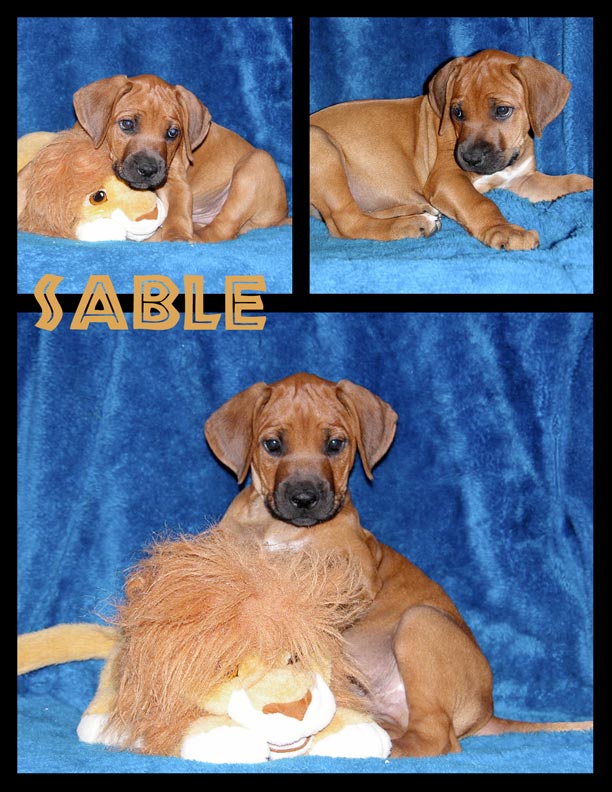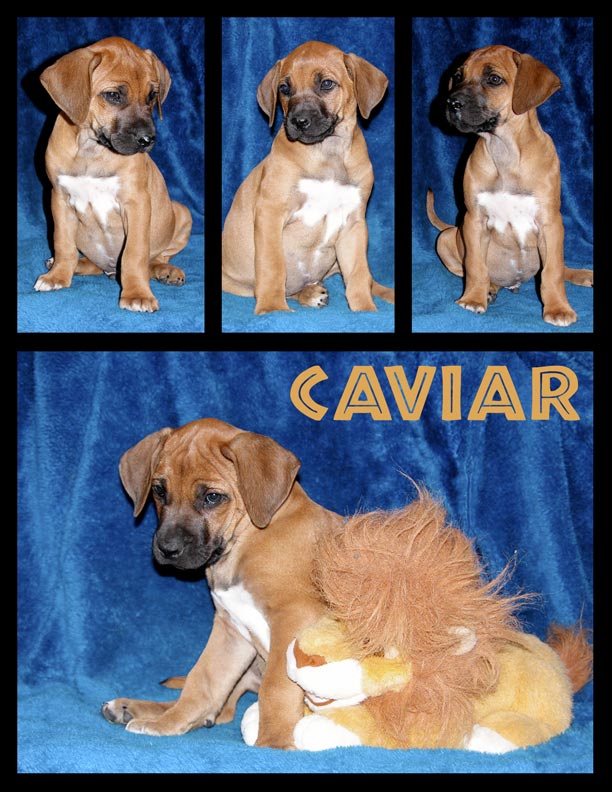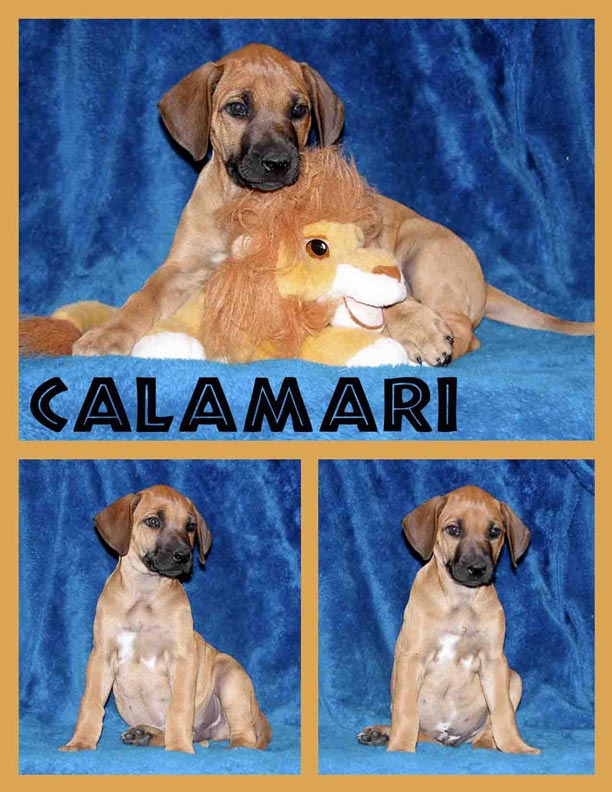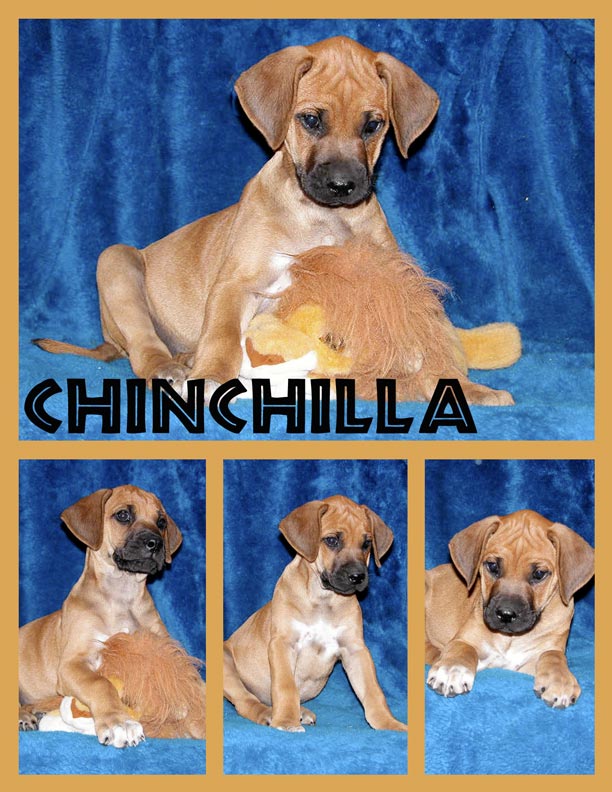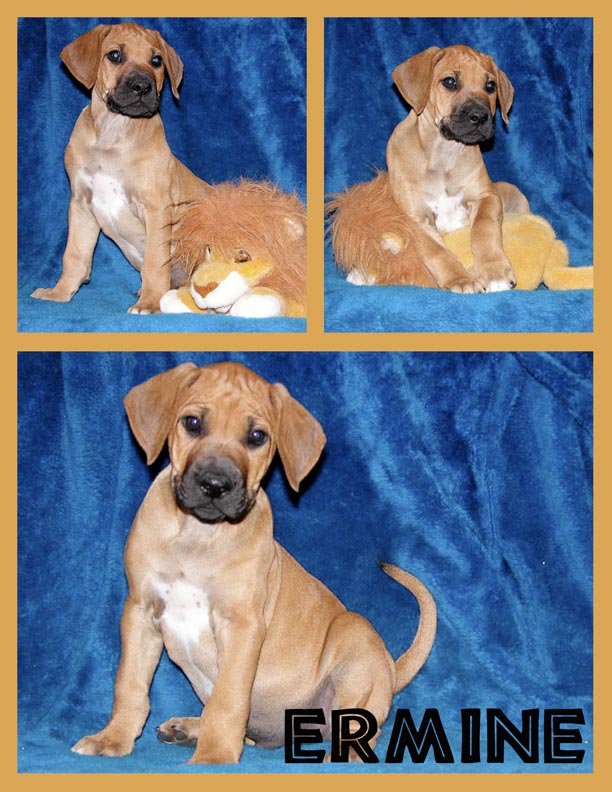 8 Weeks - Pet Males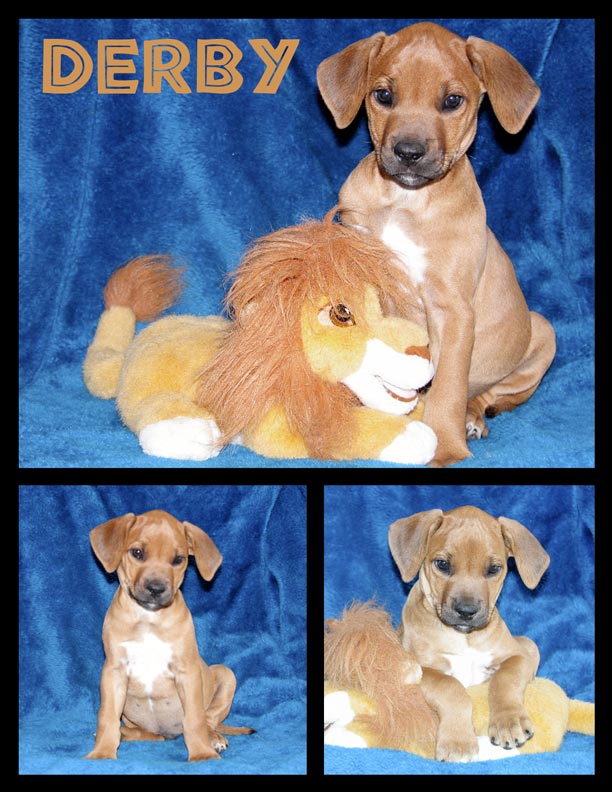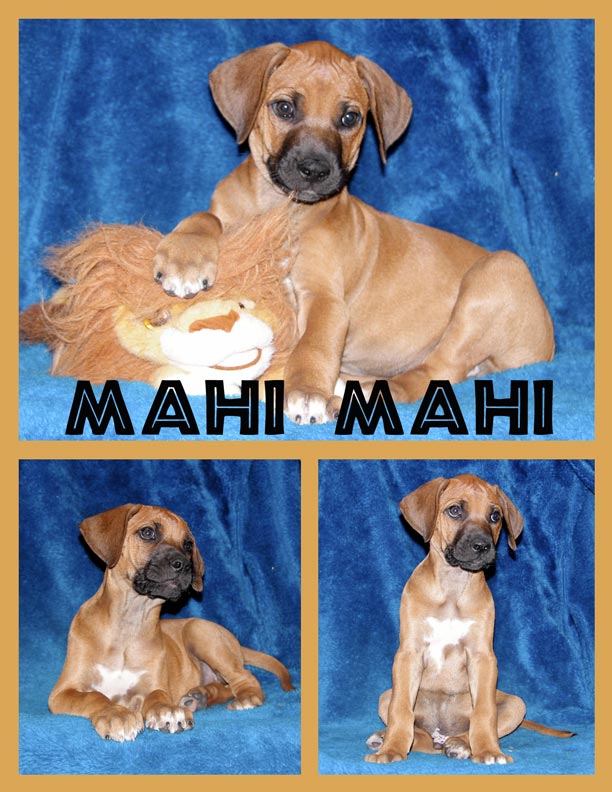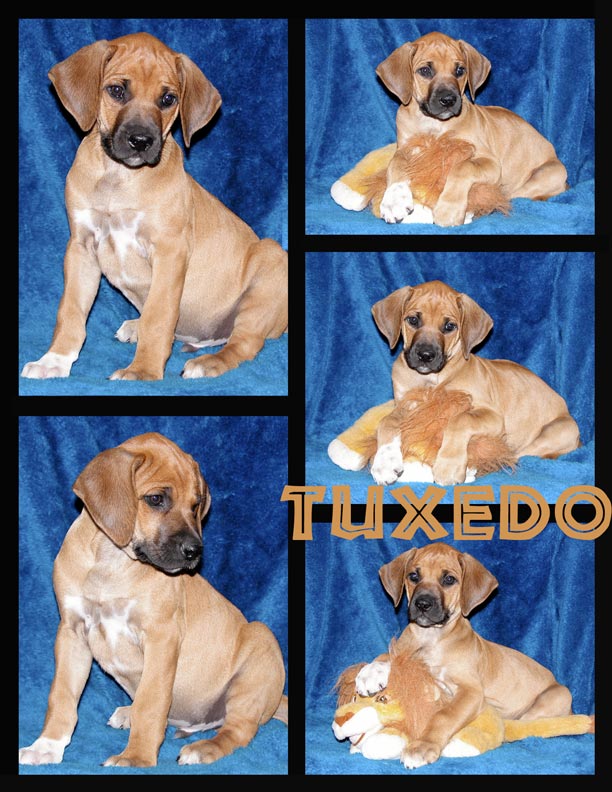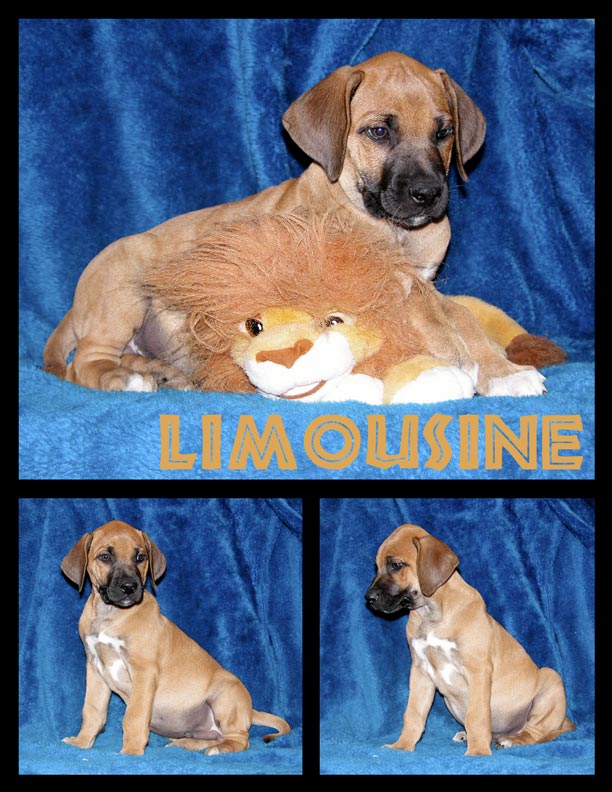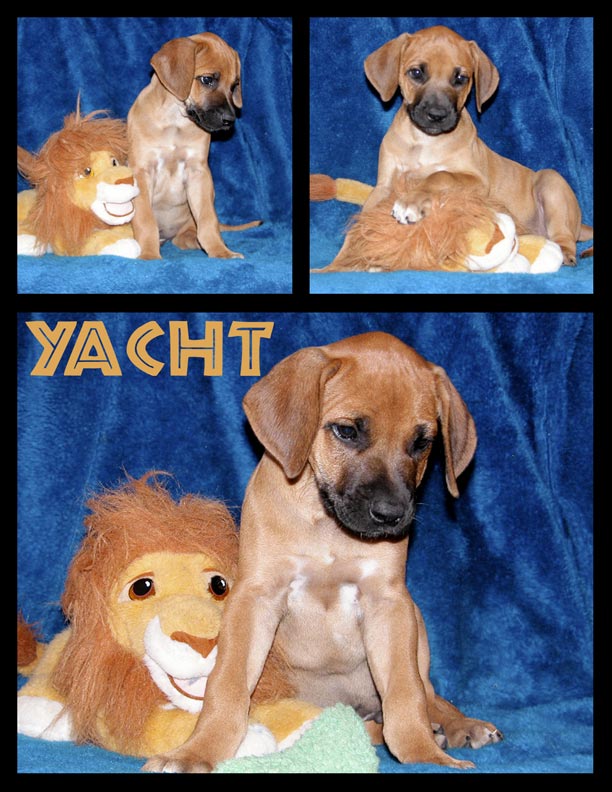 8 Weeks - Females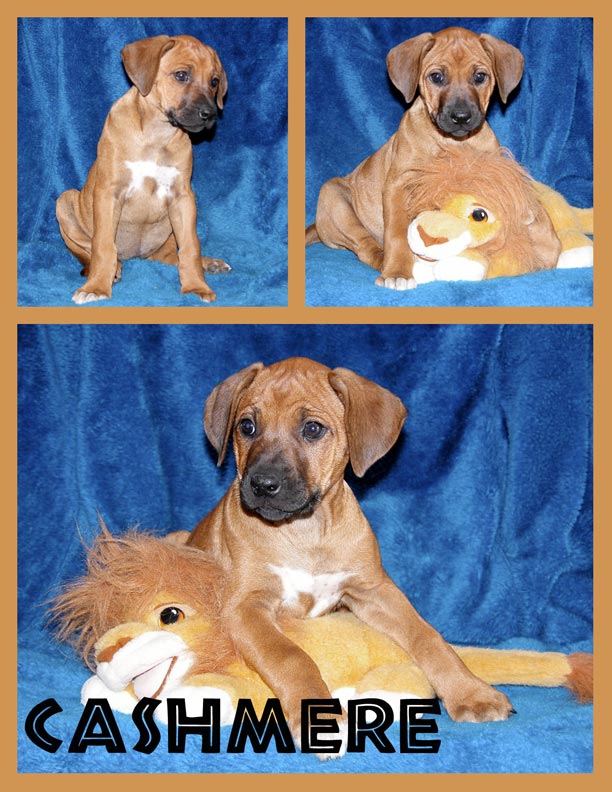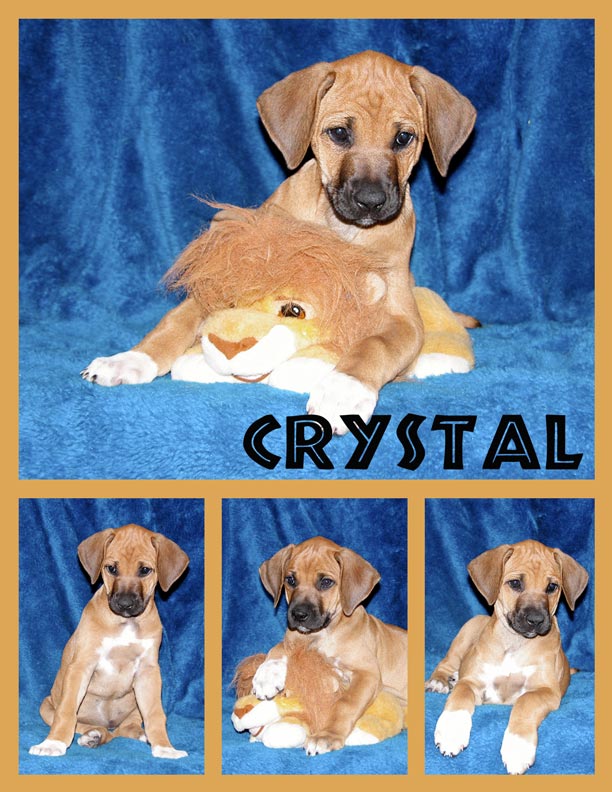 5 Weeks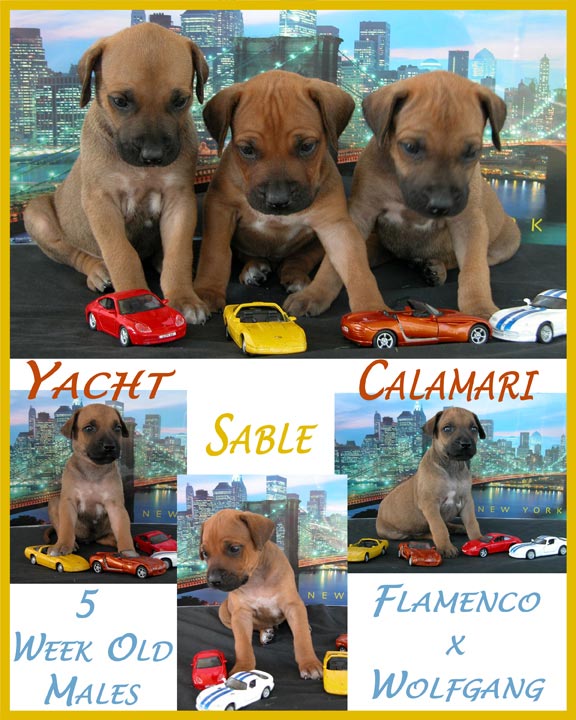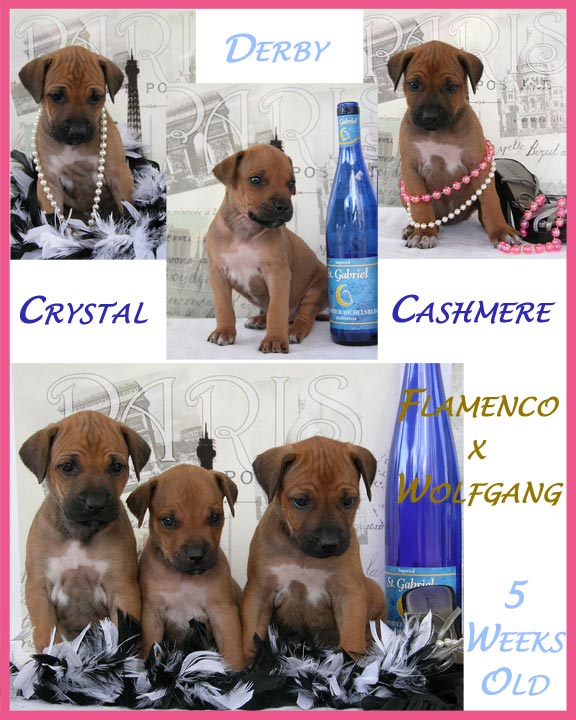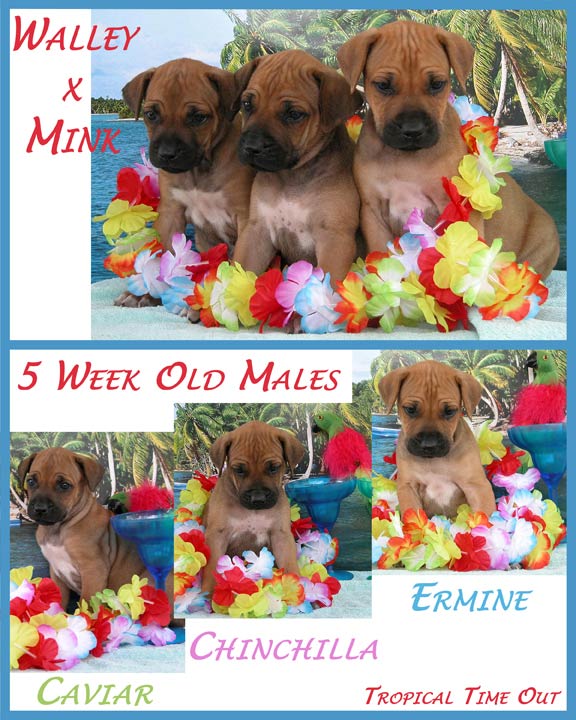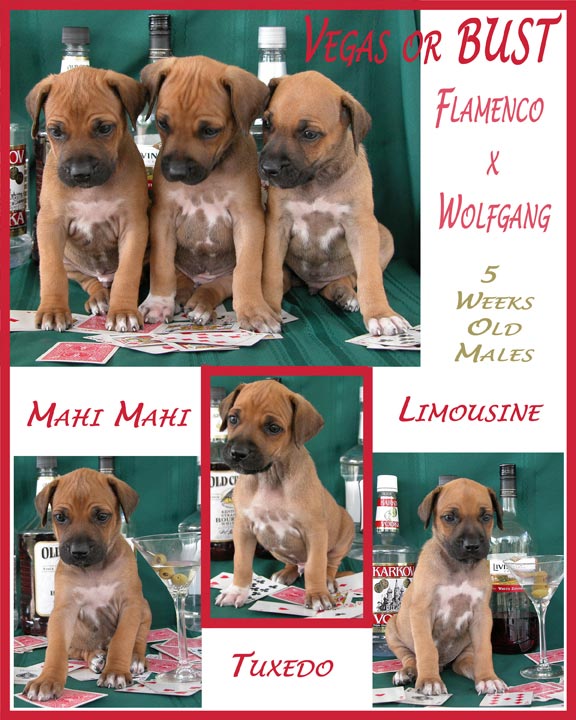 3 Weeks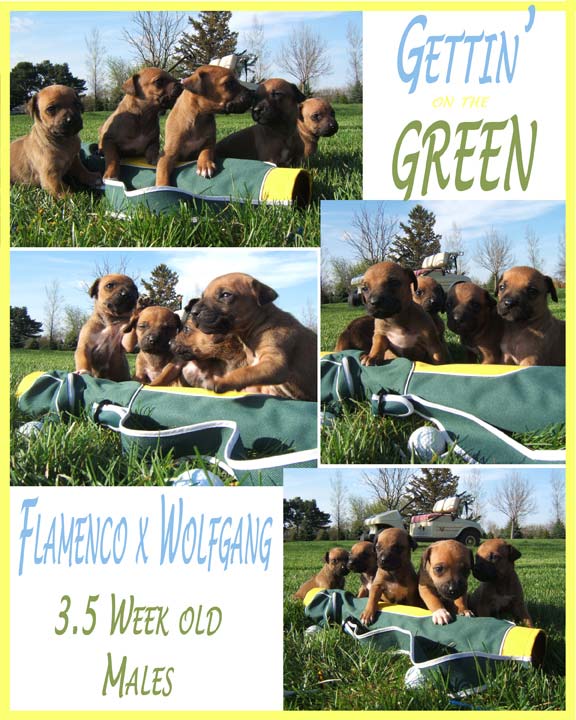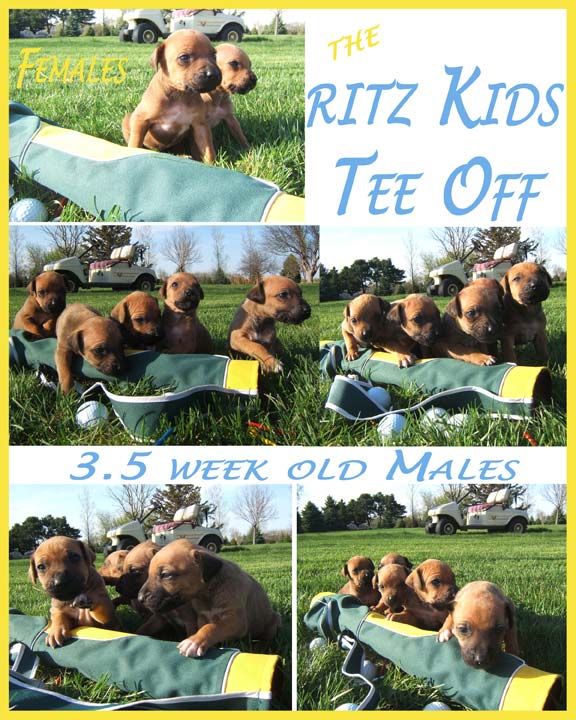 2 Weeks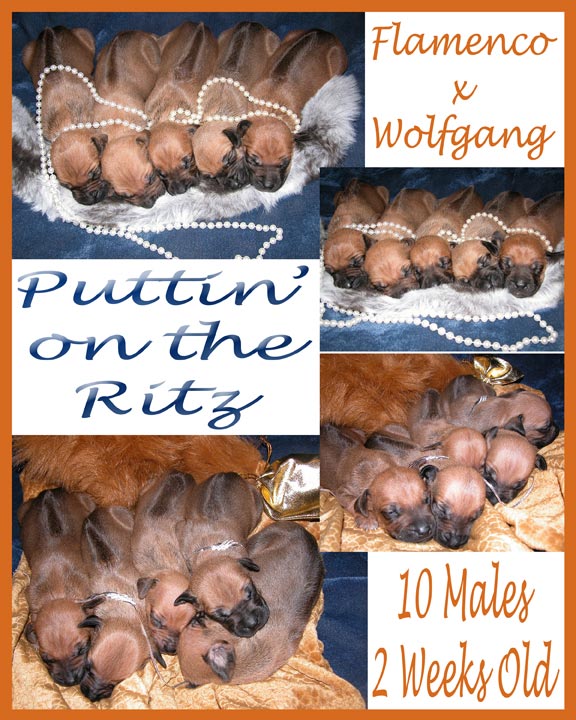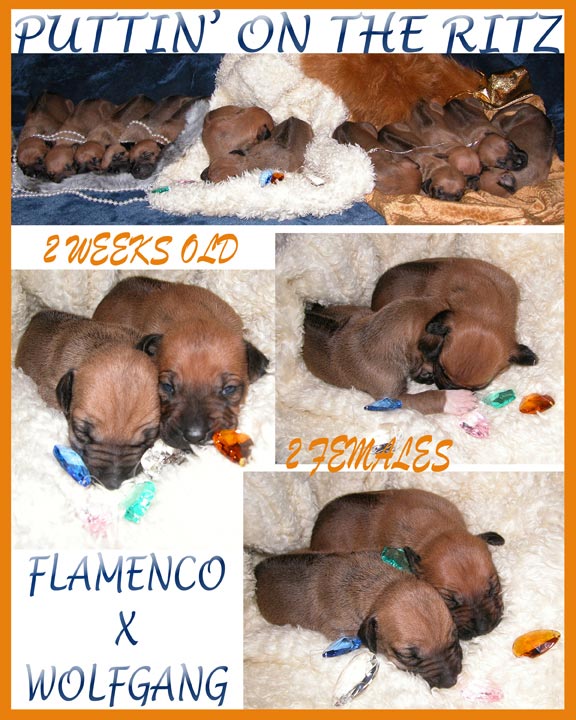 1 Week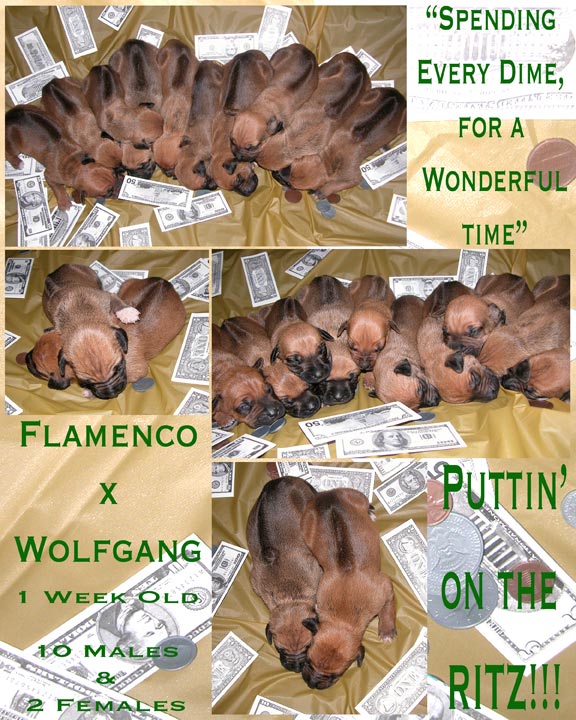 DOB