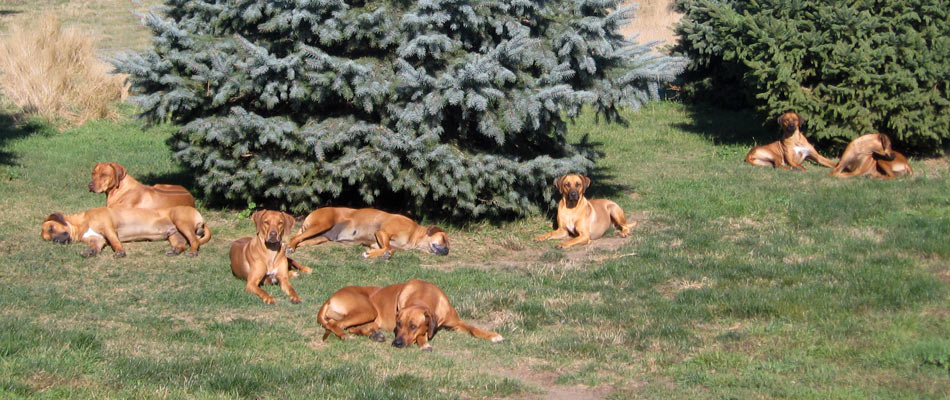 Kollege Kennels began its journey enjoying, training and ultimately breeding Rhodesian Ridgebacks in the early 90's near Mitchell, South Dakota on 40 acres of prairie, where the grass was tall, the trees rare, and the wind never stops blowing. Our dogs enjoyed a lazy life of being wherever their humans were and occasionally hanging out with the 20+ Black Arabian horses that kept the grass mowed. Three Greenwood children grew up among the Ridgebacks along with countless friends who socialized them while watching TV and playing Nintendo!! In 2002, the last Greenwood child left South Dakota for college. And so, Kollege Kennels Rhodesians, the name and the dream, had fulfilled a promise made, that the puppies three children raised, loved, and let go, would some day see them off to college!!

In 2003, a metamorphosis and a move materialized!!! We moved to Canon City, Colorado on 165 acres of mountain mesa, where the trees are tall, the view endless, and the deer, elk, bear and occasional mountain lion kept the dogs, horses and humans endlessly busy!! The dogs loved Rimrock Ridge Ranch and we made lots of great friends while there both at the conformation ring and at the lure coursing field.
South Dakota called us back in 2004, this time to the 100 year old homestead near Sioux Falls where 5 generations of our family have enjoyed the tall corn, gorgeous flower gardens, abundant apple trees and the wind that STILL never stops blowing!! In keeping with this 'coming home' Kollege Kennels Rhodesians will - in the coming generations - become Kina Kabambe (pronounced Kee nah Kah bomb bay) Rhodesians, which means "Great Family" in Swahili. Still the same Rhodesian Ridgebacks, the same philosophy, the same commitment to excellence, still "KKR".   I'm proud and honored to say that in 2012, I was awarded the AKC Breeder of Merit Award!  WOW!
and now... another change.  My mother, who drew me back to SD and lived with me for 15 years, passed away in 2019, so a new generation pulled me forward - Grandchildren in Billings MT!!  So here I am with my three young grandsons and four young females, Jig, Jive, Hula and Disco, living in TOWN for the first time in our lives!!  It has been an adjustment for all of us!!  The grass is still tall, the wind is gentler and the sky is the bluest you've ever seen!  and it is still us, Kina Kabambe, "Great Family"!!
Recently, Angelina Horne, Wild Heart Rhodesian Ridgebacks in Georgia has joined our Great Family with her Great Family !  She and her 4 children, along with the cats of course, are raising the next generations of Kina Kabambe Ridgebacks.  They have become master dog handlers and compete all over the south - Georgia, Florida, South Carolina, Alabama, and the occasional trip to Tennessee!!  I am thrilled that another family will have the opportunity to love this breed as I have for nearly 30 years!  
Today, we have 3 retirees here in Billings:  Twist, Jig, & Disco who are enjoying life with friends and family.  Their sons, daughters, and grand puppies have filled their paws and more.  The unstoppable Will is in Illinois.  BeeGee is still in Nebraska.  LuLu, Mercy, Rip & Notch are living in GA with Angelina and her family beginning their journeys together.
Our adults are all obedience trained, some certified Therapy Dogs, proven athletes, and always members of our families.  As before, all of our puppies are born and raised in our homes and are socialized with kids, cars, bikes, motorcycles, 4 wheelers, cats, and the occasional visiting deer!  Our guarantee remains the same and simple: Your puppy is healthy, both physically and genetically, when you take him/her home - 100% GUARANTEED. Our pups are micro-chipped for permanent identification to give them the best possible chance to be found if they were ever lost, stolen, or turn up in a shelter.  If for whatever reason, one of our families need to give up their dog or puppy, we MUST be contacted first. We will either help the family find a new home that meets our standard or we will take our dog back.

Now, in our fifth decade and ninth generation of breeding, rearing and training Rhodesian Ridgeback, we are very proud of the quality of our dogs which is based on three principles in this order: temperament/personality, tested clean genetic health, and correct conformation. Thankfully, we produce very few dermoid sinus pups or ridgeless pups (Zimbabwe Flatbacks make great pets!) and you cannot ask for better personalities or conformation than these big galoots have!!!

When you get a puppy from us, you get US as well – our experience, advice, support, and commitment to a forever home for one of our own!!!! As a former Puppy Obedience Instructor, Beginners Obedience Instructor, Canine Good Citizen Evaluator, Therapy Dog Trainer/Evaluator along with all the tracking, hunting, agility, herding, and even the occasionally lurecourse eventing, there will be very few times when you can't hear me say 'Been there, Done that"!!! You will become very familiar with the 'Grandma June" letters!! Our motto is still the same "Ultimately, they are ALL pets"!

Our "Rhodies" have been a true joy and blessing for my entire family and our ever growing extended family of friends!
Please God, let me be the person my dog thinks I am !
 
All website content is © Kollege Kennels 2002. Permission to be granted prior to use of any text or images.
This site was last updated in October 2023
You are visitor number: 94760